'Sweet Root', an innovative restaurant in the Lithuanian City of Vilna, has set itself a monument with a beautiful book. In English and Lithuanian, the authors spread memories, associations and enchanting pictures that make you want to take a culinary trip to Lithuania. The design is groundbreaking, the very emotional texts open a window into the soul of this small Baltic country and its magnificent nature. It is precisely this nature that inspires the Lithuanian cuisine, cultivated by Sweet Root to the highest refinement.
But what is Lithuanian gastronomic tradition? To answer this question, the young team from Sweet Root Restaurant collected memories of their childhood and stories they hear from others every day. Some of these stories take place in the garden of the restaurant, where many of the ingredients used in the restaurant are grown. At the same time, restaurant operators are in daily contact with farmers, cheese producers, millers and other local heroes who offer the best regional products and tell their own unique stories. Thus, the pride of the Lithuanian landscape should come back to the plates in an authentic emotional way. The project was realized by Studio BOY.
Designbote talked to Miglé Rudaityté of Designstudio BOY:
What were the original reasons/ motifs for the book project, and the story behind' …
It all came very naturally…Since the opening of Sweet Root restaurant, we started going out to the forest, fields, meadows and garden of ours with Šarūnė Zurba (a friend of ours). She would simply take lots of photos. The idea was to start showing where it all starts and that it is beautiful here, in Lithuania. After three years, we ended up with so many incredible photos as well as so many thoughts inside our heads that we decided to put all that in a book:) To bring back the pride of the local ingredient, to remind ourselves how beautiful our dinner table is and proudly show it to the rest of the word:)
What is the book about? I read titles like 'Once Upon a Iime', 'Heroes', 'Land', 'Seasons', 'The Way We Like It Here' etc. 
In general, the book is a visual & emotional fairy tale about the land of Lithuania from the gastronomic point of view. We start with the introduction of the fairy tale, continue with describing the place (our land) in terms of the flavours, colours, feelings, aromas of each natural season of nature we have here, then comes the heroes of the fairy tale – local ingredients that we love and people bringing it to our tables, we round it up looking at the traditional combinations of the ingredients ("the way we like it") that gives a true insight of our cuisine. At the end – a happy ending:) Four different plates from a particular season, reflecting particular set of ingredients, habits, traditions and emotions. There are quite some examples of the dishes throughout the book to illustrate the story line as well as some recipes at the end of the book.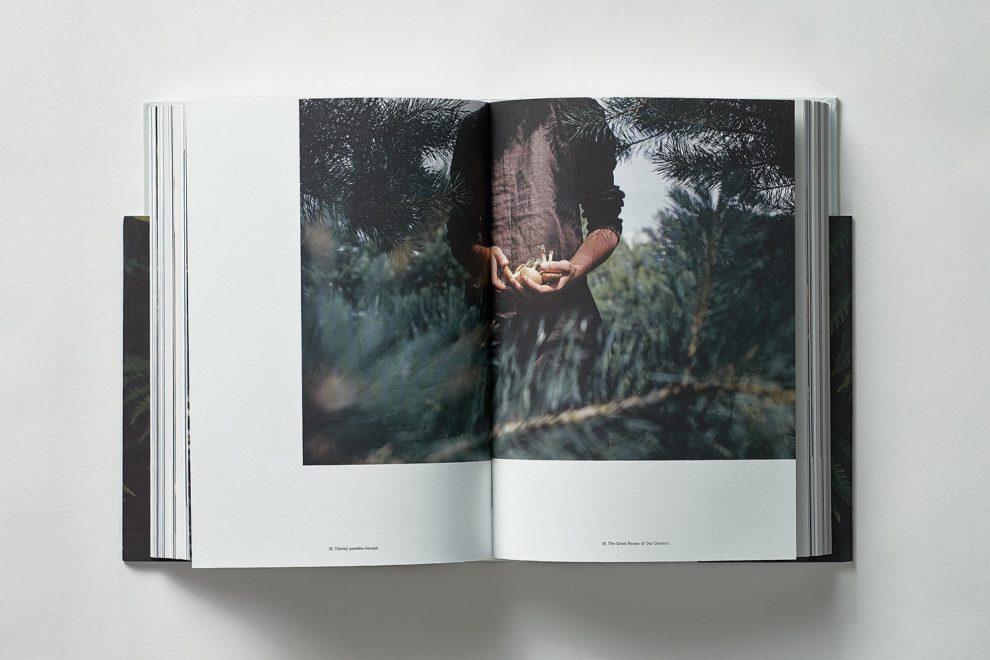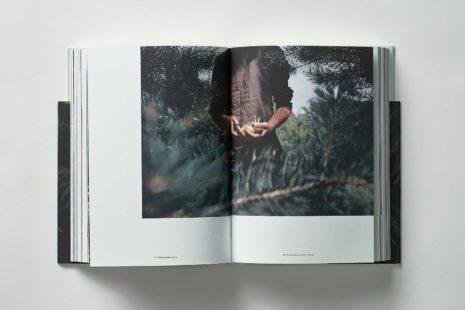 What do those geometric patterns mean/ stand for?
One thing which was important from the beginning – having in mind our ancestors lifestyle. We wanted to reflect the ancient baltic way of living. So we began to search for some roots and found out about The Cycle of Rėda, which put everything in order.
'The Rėda cycle depicts the philosophy of the natural life cycle, the way our fathers used to live, and the way people identified themselves with the natural vegetative cycle of a plant: from birth to maturation, ripening, and shedding its fruit and the final transformation into calm and death. It is a philosophical entirety of old customs, festivities, ceremonials, and the core of culture inherited from our fathers. The Rėda cycle has four transitional periods, mini-seasons, each with their particular meanings and emotions.'
It's late winter – early spring, late spring – early summer, late summer – early autumn and late autumn – early winter. Each of these seasons are represented by two main ancient graphical symbols. And also very beautiful language – some similarly sounding and looking lithuanian words. For example: NOKTI – NYKTI. NOKTI means to ripen and NYKTI means exactly the opposite – to vanish. So NOKTI stands for spring and summer, NYKTI stands for autumn and winter. We took those beautiful things as a base and created our own graphical language – 10 spreads in the book, which divides different the sections of the book.
We decided to make them tactile – embossed – with no ink. That way it let us create silent, clean, minimalistic, but subtile visual language which would symbolize the ancient baltic culture, but wouldn't grow over the photographs in the book.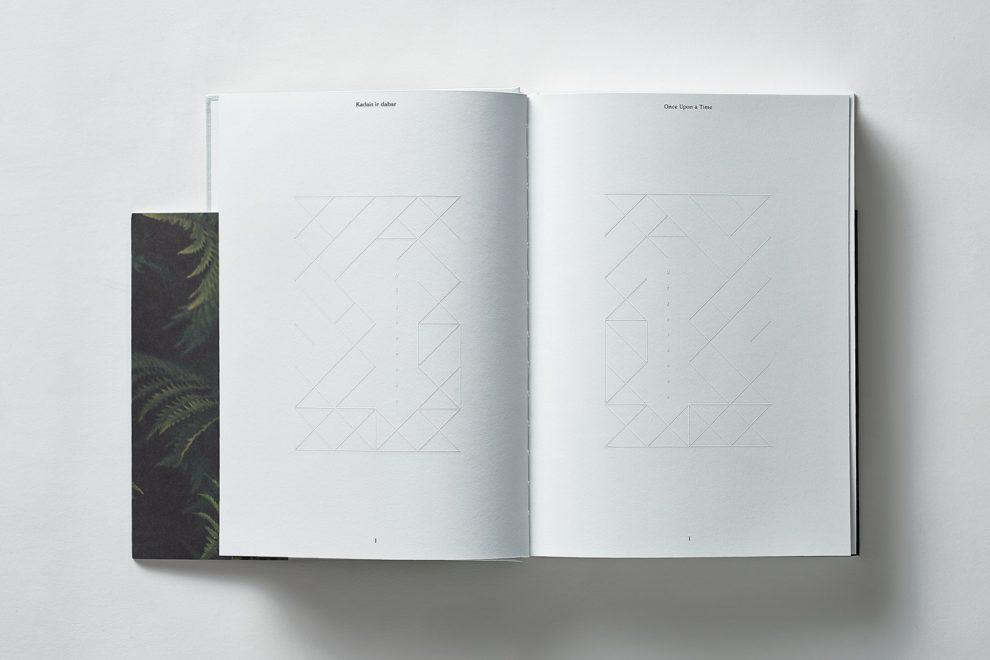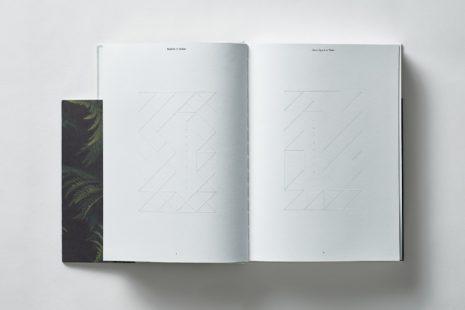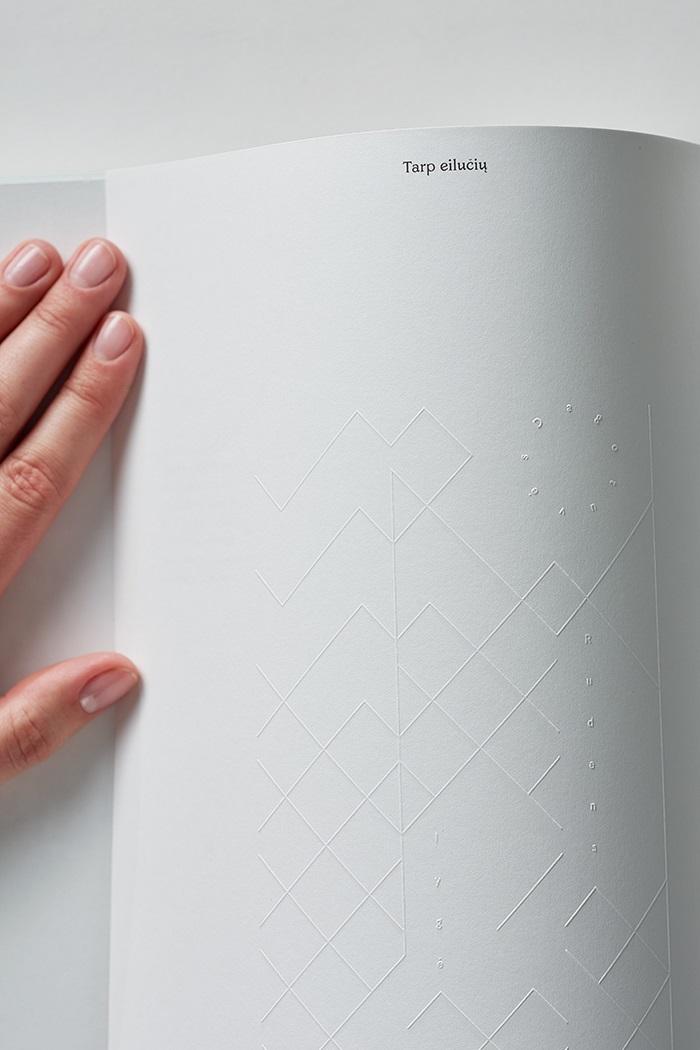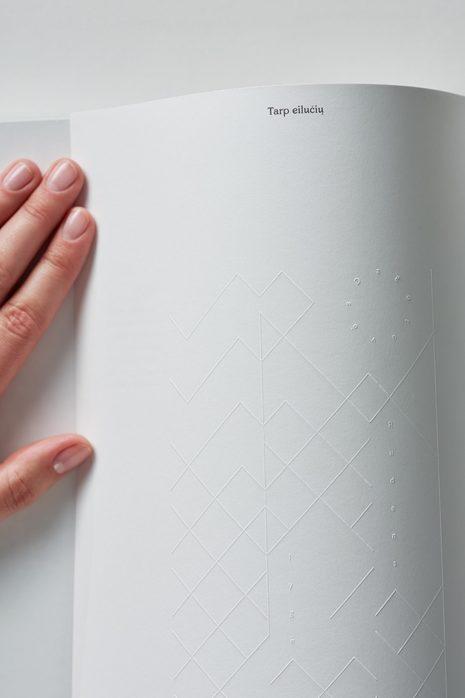 What was your guiding idea when taking on the commission for the book design?
So as I wrote answering one of the previous questions – our ancestors lifestyle played an important role. Another constant we had from the beginning of the whole process was many beautiful photos of Lithuania and its local ingredients. So many of them that it was hard to decide which ones to use in the book. That had an influence on some of the book design decisions. For instance we decided it will be even better if the book had nine different covers instead of one. So we designed nine different jackets – for each letter of the word LITHUANIA – that way representing how diverse our homeland is.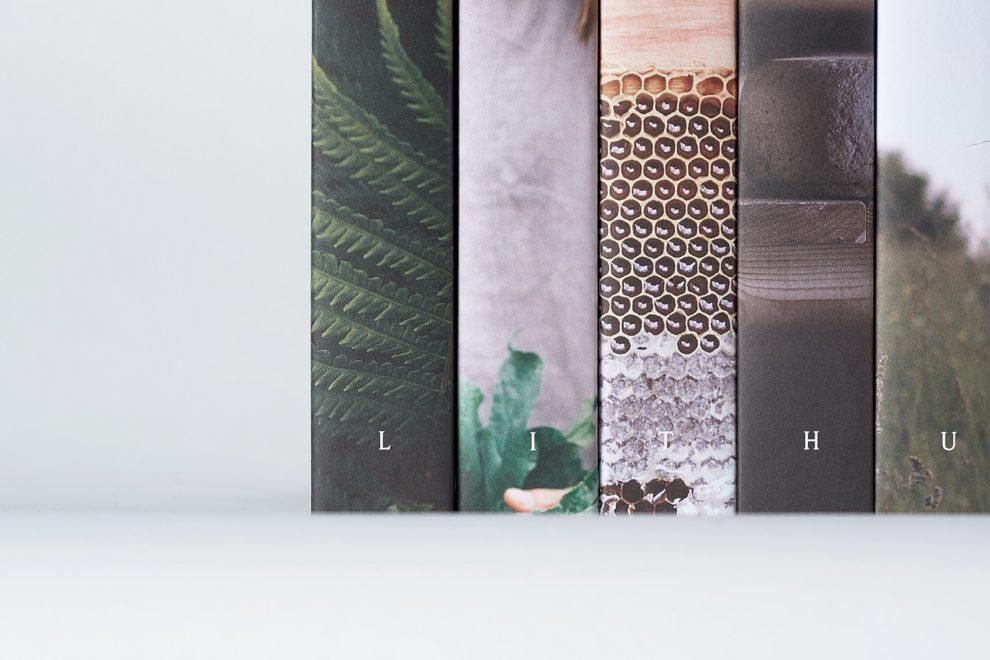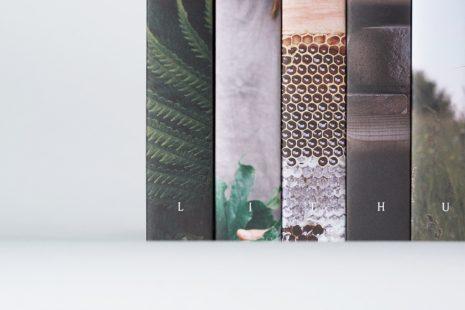 Was there any special challenge for the printers? I bet there was…
Oh yes, of course. Probably the biggest head-ache for the printers was that embossed graphical language, it was quite difficult to make it happen, but we are very glad we did!
What are the roots of lithuanian culture and language? Most of our readers might know actually nothing about your country. 
Lithuania is a tiny country these days in the northern part of Europe. However, it has a deep and long history as well as one of the oldest languages in Europe. It all started back in 1009 when name of Lithuania was first mentioned. Later, our country passed through many up and downs, wars and periods of piece, alliances and occupations. The development was influenced by many other cultures and countries (e.g. germans, french, italians, russians, polish…). During a long history of ours, the openness to the world and new cultures has formed as well as a strong identity of an independent and historic country.
To me it feels like there is er deep sentiment for the natural powers still lingering in your people's soul. Are much nature, little population with big social cohesion and a conciousness for history possible reasons?
People would always depend on the nature and the power of it. It used to be like this for ages. It was even more evident before Christianity came to our lands. It is slightly forgotten these days. But there are still many rituals, daily habits, traditions, etc. that are simply based on the natural rhythm of nature.
How come that lithuania has developed such a high profile design culture? Does the secret hide in a natural born sense of beauty?
I believe now is the time when there is no difference if you live in Lithuania or in other parts of Europe – everything is so connected, so good (and bad) design can occur anywhere. But thank you for the compliment!

How lithuanian is BOY? What else does BOY do?

Boy is 100 % lithuanian. Boy is a creative studio specializing in graphic design: mostly we do branding and editorial design. We do commissioned work, also – self initiated projects. We are truly passionate about anything creative! You can look at some more work in our (still not entirely finished) website: www.theboy.lt
What are classical lithuanian dishes and typical ingredients? Is there anything exclusively known in your kitchen tradition?
As the history of Lithuania, so is the cuisine – an open mix of influences from other cuisines having a clear set of ingredients that are loved. We never try stereotyping and bringing the 'classical' dishes on a table. At the restaurant we say that the ingredients and the combinations of those are that matters – honey & cucumbers, blueberries & milk, fish & onions, potatoes & mushrooms, rye bread & caraway, sweetflag, fermented cabbage & cranberries….to name just a few:)
The restaurant does grow it's own vegetables. Photos show enormous zuccini-plants. How mild is the climate in Lithuania?
It is central northern Europe climate:):) four distinct and lovely seasons give us diversity. quite long period of late autumn, winter, and early spring, leaves us with approx. 5 months (from May to Oct) to grow vegetables outside, pick berries and mushrooms in the woods, harvest the gardens in autumn, etc.
Is there still a tradition of collecting wild herbs?
Yes, indeed. you would pick those to freshen your dishes early in spring, then would spice up the dishes in summer and preserve by drying & infusion oils, etc. for winter.
Contents:
Proud of Lithuania. A Fairy Tale by Sweet Root
The circle of Rėda
I    Once upon a time
II   The beautiful land of Lithuania
III  The great heroes of our country
IV  The way we like it here
V   The happy ending
VI  The story behind
Recipes
Check out the preview on Issuu:
Format: 21 x 29,5 cm, Hardcover
ISBN: 978-609-95571-4-4
Englisch/ Lithuanian
360 pages
Editors: Dvi Tylos, 2017
Autor: http://www.sweetroot.lt/
Texts: Algė Ramanauskienė
Editing: Jenn Virskus, Jurgita Jačėnaitė
Photos: Sarune Zurba Photography
Design: Boy Creative Studio
Printers: Balto Print'
Price: 55,-€
'Proud of Lithuania. A Fairy Tale by Sweet Root' available at Restaurant 'Sweet Root'
Bildquelle: Proud of Lithuania