Works from 19 designers from around the world make up Kvadrat's exhibition My Canvas at Somerset House during London Design Festival 2017
The stately Neoclassical Somerset House at the Strand will form the striking backdrop of My Canvas when Kvadrat joins London Design Festival in September.
This third edition of Kvadrat's design projects will showcase contributions from 19 emerging and established designers from around the globe; from Japan to Poland, from the USA to France. A celebration of creativity, the aim is to inspire the industry, to push boundaries in materiality and techniques and make one rethink the use of textile. My Canvas pays homage to a Kvadrat staple: the vibrant and elegant upholstery textile Canvas, crafted by renowned Italian colourist Giulio Ridolfo.
Canvas stands out for its shimmering colour nuances, delicate contrasts and elegant structure. The new colour palette inspired by the painterly landscapes of Skagen, Denmark, comprises a variety of dark, light, cool and warm tones, reflecting the soft, Nordic pastel panoramas and dramatic, dark coastlines.
In an open brief, Kvadrat invited the designers to create their interpretations of Canvas informed by contemporary design. The exhibition is titled My Canvas, lending itself to the individual
creative viewpoint revealed in each piece. Be it the beauty and intricacy of the yarn, the colour palette, the structural properties or architectural expression of the textile, the contributions invite the viewer on a journey of tactile discovery.
Anders Byriel, CEO Kvadrat: "Giulio Ridolfo has been the mastermind behind some of our most successful textiles during the past 13 years: Steelcut, Steelcut Trio, Remix, Hot, Recheck, Zulu and Canvas. His feeling and approach to colour is unique: in between colours and surprising colour combinations of yarns give every textile by his hand a threedimensional and surprising depth. So when we had to choose a textile for this third edition of design projects, we were sure it had to be one by Giulio Ridolfo's hand."
Designers and curators
Designers selected for My Canvas include Zeitguised (Germany), BCXSY (The Netherlands), Maria Jeglinska (Poland), Felipe Ribon (France), Christien Meindertsma (The Netherlands), Judith Seng (Germany), YOY (Japan), Moritz Schmid (Switzerland), Cheng-Tsung Feng (Taiwan), Max Lipsey (The Netherlands), GamFratesi (Denmark), Mimi Jung (USA), Chen Williams (USA), Jonathan Muecke (USA), Teruhiro Yanagihara (Japan), Kate Chung Design (China), Studio Stabil (Germany) and Butternutten AG (Germany).
Curators include Constance Rubini, Hans Meier-Aichen, Jeffrey Bernett, Yves Marbrier and Njusja de Gier.
"In this sometimes-chaotic moment, we look to people who can lead culture to make sense of competing points of view, and to show us a way – or ways – forward. The Canvas project, as a whole, displays kaleidoscopic creativity, reflecting the diversity of the group based on cultural vision. It is a testament to what happens when you present talent with a provocative opportunity, a blank canvas." Jeffrey Bernett, designer and curator.
My Canvas follows on from the success of the Kvadrat Design Projects in Milan, Hallingdal 65 (2012), and Divina, Every colour is divine (2014).
In addition to celebrating Canvas 2, Georgina Wright's new uphostery textile, Skye, and new colour setting of Tonica 2 will be launched at Kvadrat's showroom alongside new colours of Daybreak 2 by Patricia Urquiola.
'Amare Gio Ponti' at Molteni&C in collaboration with Kvadrat
In honour of legendary Italian designer Gio Ponti, Molteni&C|Dada present 'Amare Gio Ponti' – a documentary movie by Molteni&C premiering during London Design Festival.
In celebration of the premiere, Belgian architect Vincent Van Duysen curated a selection of Ponti's greatest works, reupholstered in textiles from the Kvadrat/Raf Simons collection. Chosen in collaboration with Gio Ponti Archives using different colours and patterns, the selection pays tribute to the architect's aesthetic.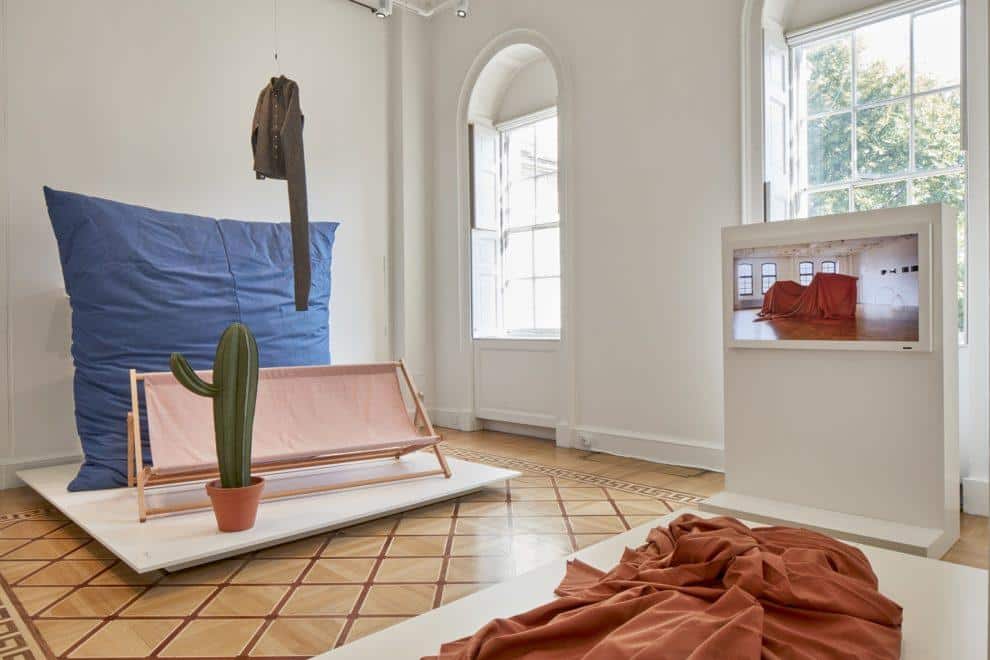 My Canvas
18 – 24 September 2017
Somerset House, Terrace Room 1 to 3
Strand
London WC2R 1LA
'Amare Gio Ponti'
16 – 24 September 2017
Molteni&C
245 – 249 Brompton Road
London SW3 2EP
Canvas 2
Canvas 2 is a vibrant woollen upholstery textile created by Giulio Ridolfo with an updated palette inspired by the landscapes of Skagen, Denmark. Since the Danish Golden Age, this area has been a magnet for painters, as the landscape combines soft, pastel panoramas and dramatic, dark coastlines. Reflecting this, the Canvas 2 colour scheme comprises of a variety of dark, light, cool and warm tones. The melange yarn used to craft Canvas 2 combines three colours, with six hues in every colourway. From a distance, it has the calm surface of a
unicoloured textile. But, get closer, and shimmering colour nuances, delicate contrasts and an elegant structure emerge.
Tonica 2
Tonica 2 is a woollen melange upholstery textile by designer Georgina Wright, characterised by exceptional colour richness. Inspired by natural landscapes, they go from subtle neutrals and soft pastel notes to a few pure highlight tones associated with the Bauhaus movement such as yellow, blue and red. Whereas the original Tonica was based on two piece-dyed wool qualities, Tonica 2 now comprises three, allowing for a greater variety of tones and an even more nuanced expression of colours. Reflecting this, Tonica 2 goes a step further in meeting the original design goal of
Tonica: to deliver a solid, clear and vivid colour expression shadowed with black. The updated colour palette consists of 39 colourways of which 24 are new.
Skye
Crafted by British designer and artisan Georgina Wright, Skye is a new woolen upholstery textile with a simple weave that stands out for its refined colouring inspired by the landscapes of the Isle of Skye. From soft, neutral tones to classic colours, it comprises a number of unexpected colour combinations – such as peach and blue – which open creative possibilities for mixing and matching. Skye combines twisted yarns in two different tones creating tiny circular loops that play across a voluminous surface. While offering intriguing colour details from close up, the two yarns melt into each other to create a radiant melange from a distance. Skye comes in 35 colours.
Daybreak 2
Designed by Patricia Urquiola, Daybreak 2 is a unicoloured, transparent curtain with an open structure inspired by the light at dawn. Tactile irregularities play across the surface of the textile reminiscent of linen. As light conditions change, the expression changes too. Daybreak 2 comes in updated colours of neutral hues as well as a few subtly coloured tones, such as toned-down brick, soft yellows and understated greens.
About Giulio Ridolfo
Giulio Ridolfo's methodology and colour compositions are far from traditional. He bases his work around the expression of an attitude or a choice. This results in the development of highly personal and distinctive colour palettes.
Since graduating as a Master of Fashion Design, from the Domus Academy in Milan in 1985, Giulio Ridolfo has amassed a wealth of experience as a textile and colour advisor to the clothing, footwear and interior design industries. He has collaborated with many of the world's leading fashion and design brands, including: Tods and Hogan, Gianfranco Ferré, Moroso, Vitra, Fritz Hansen and Salone del Mobile. He has been working with Kvadrat since 2004.
About Gio Ponti
Gio Ponti graduates in Architecture from the Milan Polytechnic at the end of World War I. A wide range of furnishings are created alongside his major architectural works. This is evinced in his three Milan homes, designed alla Ponti: on via Randaccio (1925), via Brin (Laporte House, 1936) and the last on via Dezza (1957), his "masterpiece" in domestic design. Gio Ponti promotes Italian industrial design and proposes manufacturing series of interior furnishings, as a "sophisticated, economic, democratic," and modern solution.
The Ponti-Fornaroli-Rosselli Studio is created In 1952. In 1954, he cofounds the magazine Stile Industria along with Alberto Rosselli. In the 1950s, Ponti experiences a creative "second youth" as shown by the second Montecatini office building (1951), furnishings for the Andrea Doria ocean liner (1952), the interiors and swimming pool of Naples's Hotel Royal (1953), the Italian Institute of Culture in Stockholm (1954), Villa Planchart (1955) and Villa Areazza (1956), in Caracas, and Villa Nemazee (1960) in Teheran.
His masterpiece dates to 1956: Milan's Pirelli Tower, followed by among other works, significant hotels and churches in Italy and the USA. At the age of 80 in the 1970s, Gio Ponti is still designing important architecture, such as Taranto's Concattedrale (1970) and the Denver Museum (1971), and furnishings such as "the shallow seated Gabriela armchair" of 1971.
About Georgina Wright
A graduate from the Royal College of Art, British Georgina Wright is an artist, artisan and designer. She is internationally acclaimed for her flair for colour and the purity of her work, and has worked on projects across Europe.
Georgina Wright sets out to create new surfaces that represent what is taking place in architecture, yet without being hard. She describes her
colours as calm, yet market oriented, as they reflect current trends.
About Patricia Urquiola
Spanish artist and designer Patricia Urquiola was born in Oviedo, and attended the School of Architecture of Madrid Polytechnic and Milan Politechnic. She lives and works in Milan. In 2001, Patricia Urquiola opened her own office, where she works on product design, architecture, installations and concept creation. Her output has been recognised with many international design awards.
About Kvadrat
Kvadrat was established in Denmark in 1968 and has deep roots in Scandinavia's world-famous design tradition. Kvadrat holds the leading position in Europe's high-quality contemporary textiles market. We supply architects, designers and private consumers across the world with textiles and textile-related products. Our products reflect our commitment to colour, quality, simplicity and innovation. We consistently push the aesthetic, technological and functional properties of textiles. In doing so, we collaborate with leading designers, architects and artists; among others Miriam Bäckström, Raf Simons, Ronan and Erwan Bouroullec, Thomas Demand, Olafur Eliasson, Alfredo Häberli, Akira Minagawa, Peter Saville, Roman Signer, as well as Doshi Levien and Patricia Urquiola. kvadrat.dk